It's Small Business Day at Three's 4 Me blog and one of my necklaces is featured over there!

This week I want to share how one fleeting thought brought me a sale. Yay! I don't know why I haven't thought of it before. The other day while I was writing a post I was searching for just the right picture of myself to add to it. I just wanted one picture to go along with a poem that was about me.
Then, I remembered the "Journey" necklace photo I took for my shop. So I added it to the post which was perfect. I added the details of the necklace and the link to my shop below.
Guess what? Someone loved the necklace and bought it!!! Not only that, when I went to check out the order, she had bought 3 other items too!! Yay!! I have been adding other blogs and shop links on my blog homepage if I had won something from a giveaway or if a giveaway was done by another blogger on my blog. I have been advertising for everyone else but not for myself! Light bulb!
So here are the other pretties that went to a new home with the necklace.
Lesson for the week:
- add photos of your products in your blog posts
- add an album for your shop on your Facebook Fan Page
- add an album for your shop on all your personal media outlets
- share on Facebook or Twitter regularly about your products
- make up greeting cards of all kinds that feature your products
I have not added any holiday items to my shop but these go along well with the holiday spirit. Red, White, and Green. These are available in the shop and are awaiting a new home or shall I say a new owner to love them and wear them proudly.
All Lei are crocheted using ribbon and yarn. They are very soft, easy to wear, and look like real flower lei depending on what combination of ribbon and yarn are used. These can be used to wrap around vases, on any type of hats but look great on cowboy hats and women's floppy hats.
Hoping to share new items next week.
Until then choose Handmade for your Holiday shopping...
Visit shop here: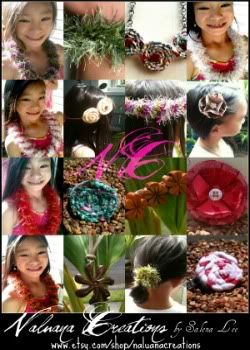 If you already do these things things to promote your business, how has it been working for you? Do you have other ideas you would like to share? If you try these tips, please let me know how it worked for you.
Good luck, see you next week!
Pin It