Hey everyone, this is Sue from Hello. Also, I love you. If you have not heard of her, let me tell you... you will love her. She is the sweetest and she lives in Japan. Sue will be back at the end of the month with a lovely giveaway. She is on the search for something great for one of you lucky followers. Something from Japan, I wish I could enter you are going to love it!
**********************************************************************************
My name is Sue and I blog at Hello. Also, I love you. I enjoy writing about my life and everything going on around me. My sweet husband Aaron and my cute puppy Twink are my favorites. Sometimes my posts are silly, sometimes heavy, sometimes thoughtful, and sometimes crazy. Any way you say it, they're real.


1. What is the meaning behind your blog name?
My blog title can be said directly to my husband, my puppy, my family, my friends, and pretty much everyone in my life. The people in my life know I love them because I always tell them, and I thought my blog should reflect that.

2. What is your favorite blog post that you've written?
My favorite blog post would probably be the most honest thing I've ever written for other people to read. I'm only 25 but I've been married, then divorced, and now happily married again. When I wrote this post on divorce it was the hardest thing I've ever written. But it was the most honest and the most freeing.

3. You've just been handed a "Random Act of Kindness" card after someone did something great for you. How would you pass it on, what "act" would you do and would you choose a random stranger or someone you know?
This is a difficult question to answer only because it would completely depend on the time it happened to me. If I saw a stranger that needed some help I would pass it on in that way. On the other hand, I can think of a few friends/families that would benefit from a little help. So it depends! I'd immediately start thinking about the best way to share the love though. But the great thing about life is you don't have to wait for someone to hand you a card, you can just go out and give the help when you know it's needed.

4. What was the last thing you did "just because" for yourself?
I had to think about this one! I do things just because for my hubby and he does them for me but I don't usually do them for myself. I guess I bought Cadbury Eggs just because I wanted them! I hope that counts.

5. If you could have a day to yourself, what is the MUST thing you would jump at doing?
This is imagination land, right? If so I would magically appear back in Utah at my parents house and get a massage from my mommy who is the BEST massage therapist on the planet. I suppose if I'm not living in imagination land I would just go get a massage here in Japan. I'm sure they're pretty good, too.

Random facts about me:
1. Aaron and I danced to

Party Rock Anthem

at our wedding. We made all 40 of our guests stand up and dance with us and we did the shuffle even though I had a badly sprained ankle. It was so much fun!
2. I love nail polish & lipstick/lip gloss/lip stain. Basically anything that makes my nails or lips pretty. I'm constantly trying new colors and brands in search of perfection.
3. I wish I could draw or paint. I've tried and tried and I'm just not any good. I can paint simple things all one color (maybe 2 if I'm lucky) but nothing fancy.
4. I read all the time. When I was little and wouldn't do my chores my mom would ground me from my books. I have both a kindle and a nook and I have a book with me at all times.
5. I was never an animal person until I got Twink. Now I'm one of those crazy people that puts sweaters on their dogs and buys them toys and treats just because. Sometimes I don't know what's happened to me but I sure love that little guy so I don't question it.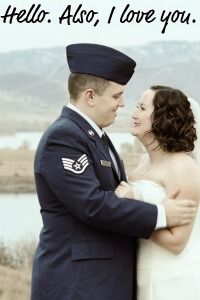 BLOG - FACEBOOK - TWITTER - PINTEREST - BLOGLOVIN'