I'm so excited to bring you this special Valentine's Day series. I came up with some questions that would help us to get to know what others may be thinking about Valentine's Day. I wanted to know what makes it special for them, what is their fondest memories, and their favorite things to do on this special day. Towards the end you will a special message for their Valentine.
Today's Interview is with Darcie from My Overflowing Heart, here's what she has to say...
What does Valentine's Day mean to you?
I means Chocolate me dreaming of a super nice date night. We'll see when the day comes right?
Share your most memorable Valentine's Day.
When my husband and I were dating he surprised me with candy and Valentines socks and a big stuffed hippo. That was the day of our first kiss as well.
What would be your ideal Valentine's Day?
I love spending time with my husband. With two babies we dont get that too often. For him to buy me chocolates and take me out to eat and maybe see a movie its good enough for me :)
Do you have a favorite Valentine's treat or craft that you do? If yes, please share. OR Favorite Valentine's item from your shop or favorite shop.
This year I made a valentine card on the computer for fun. My kiddo's aren't old enough yet to really understand it so they won't be handing out cards. & I am the cake ball maker around here so of course I had to make some! They are the best I've made so far. I love those little heart sprinkles!
Do you celebrate Valentine's Day just on the day, does it need to be on the day, and/or do you celebrate all month?
This year, for the first time, we started celebrating weeks early. Hubby got me candy and I decorated the dining room. Next year I plan on decorating more and having my kids help.
Love to me is unconditional. For better or worse. Love is this scripture: 1 Corinthians 13:1-13 - Love is patient, love is kind. It does not envy, it does not boast, it is not proud. It is not rude it is not self-seeking, it is not easily angered, it keeps no record of wrongs. Love does not delight in evil but rejoices with the truth. It always protects, always trusts, always hopes, always perseveres. Love never fails.

V. Day is another great reminder to put your other half first and treasure those moments even more than before.
Do you have any Valentine's Day traditions that you still follow as a grown up that your parent's did with you as a child?
I can just remember handing out cards in school. We never (that I remember) did a craft every year or something. When they are old enough they will hand out the little cards too & I'm going to buy them pajama's. I've had Riah's new PJ's waiting for her for two weeks. I almost gave them to her 3 times before my mom in law stopped me lol!
What is your most favorite thing about Valentine's Day?
Spending the time with family definitely. I'm sure it's only going to get better from here as the kids get older. It's full of candy, crafts, taking photo's and baking. What's not to love about that??
Your special message to your Valentine...
To my Mondo,
You've never failed to love everything about me. Never have you tried to change me, but make me a better person without even knowing it. You rescued me when we met and have taken care of me ever since. You've made my dreams come true, you make me happy. You make me laugh. Thank you for taking care of me =)
Thank you so much
Darcie
for participating in this Valentine's Interview Series!! I appreciate your heart and honesty in your answers and for your willingness to share it with everyone here.
click on photo to read all interviews.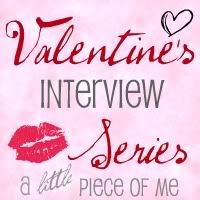 ** still taking valentine's dedications, send special messages to alittlepieceofme.salena@gmail.com **
xoxo,
Salena
BlogLovin
/
Facebook
/
Shop
/
Twitter
/
Google+
/
Pinterest
Pin It