I'm so excited to bring you this special Valentine's Day series. I came up with some questions that would help us to get to know what others may be thinking about Valentine's Day. I wanted to know what makes it special for them, what is their fondest memories, and their favorite things to do on this special day. Towards the end you will a special message for their Valentine.


Today's Interview is with
Michelina
from Finding Michelina, here's what she has to say...
What does Valentine's Day mean to you?
Valentine's Day is another day to let my hubs know how much I appreciate him and his putting up with my craziness!! It is a day to celebrate the fun and things we have been through together!! Valentine's Day this year is super special because it is our first one married!! :) Oh and it is an excuse to be treated like the princess for a day ;)
Share your most memorable Valentine's Day.
My most memorable Vday was 2007. We had a crazy blizzard all day and my hubs had waited til the last minute to go out and get my flowers. Well he attempted to go out and just slid down a hill in his car so he came back to school and together with the help of 2 or 3 of my suite mates, he hand made me a card and I still have it to this day!! Definitely the most memorable!! <3
What would be your ideal Valentine's Day?
My ideal Valentine's Day would be dinner and a movie of my choosing!! Seems simple right? But the hubs has that ability to convince me to go see zombie/apocalypse movies every time lol
Do you have a favorite Valentine's treat or craft that you do? If yes, please share. OR Favorite Valentine's item from your shop or favorite shop.
My favorite treat for Valentine's Day is probably boxes of chocolate!! I love them and the surprise inside tehehe!! :) This year since I started crafting I also made a really cute heart chain out of an old book that I will eventually get up as a tutorial lol
Do you celebrate Valentine's Day just on the day, does it need to be on the day, and/or do you celebrate all month?
We celebrate Valentine's Day when we can because of the hubs wonky schedule lol
Valentine's Day is about celebrating the ones you love. What does LOVE mean to you?
LOVE means to me: hope, family, friendship, trust, admiration, surprise, warm fuzzies, glitter, sparkle, candy, pink, joy, celebration, appreciation and togetherness
Do you have any Valentine's Day traditions that you still follow as a grown up that your parent's did with you as a child?
I miss the days of buying those boxed cards and filling them all out and making sure everyone in class had one lol those were the best!
What is your most favorite thing about Valentine's Day?
The colors!! And flowers I love flowers!
Your special message to your Valentine...
To the hubs: Love you most!! ;)
You can find
Michelina
on her blog
HERE
.
Thank you so much
Michelina
for participating in this Valentine's Interview Series!! I appreciate your heart and honesty in your answers and for your willingness to share it with everyone here.
click on photo to read all interviews.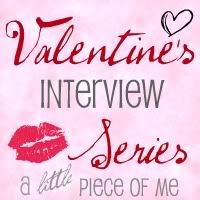 xoxo,
Salena
BlogLovin
/
Facebook
/
Shop
/
Twitter
/
Google+
/
Pinterest
Pin It