I'm so excited to bring you this special Valentine's Day series. I came up with some questions that would help us to get to know what others may be thinking about Valentine's Day. I wanted to know what makes it special for them, what is their fondest memories, and their favorite things to do on this special day. Towards the end you will a special message for their Valentine.
Tracy ~ Dear Life, From a Mom of Boys
What does Valentine's Day mean to you?
Valentine's Day to me has multiple meanings. First, it's my Father in Law's birthday...so whatever he wants to do trumps our Lovey Dovey time. :) It is also an extra special day to remind my family how much I love them. A few years ago, my hubby sent me two dozen roses and made me the best dinner ever. It was fantastic to be so spoiled! Simple...yet perfect.
Share your most memorable Valentine's Day.
A few years ago, my hubby sent me two dozen roses and made me the best dinner ever. It was fantastic to be so spoiled! Simple...yet perfect.
What would be your ideal Valentine's Day?
It would be so nice to go back to our dating days.....since we've been married for seventeen years and we now have five kids our dates are considerably shorter than they used to be....I would love for him to go pick up our favorite sushi...some yummy dessert....and take us to the beach to watch the sunset. SO simple....but it's what we used to do and just haven't had the time.
Do you have a favorite Valentine's treat or craft that you do? If yes, please share. OR Favorite Valentine's item from your shop or favorite shop.
OH I JUST GOT THE CUTEST THING EVER...and it's so cute I may have to have it up year round...it's here on Landee See, Landee Do
I totally want my whole mantle to look like that...but I will have to build on it. This year...I got the "Every love story is beautiful, but ours is my favorite" sign. <3 it!
This year I got these little mini mailboxes at Target for one dollar each and I'm going to give a valentines treat to my boys each day!
Do you celebrate Valentine's Day just on the day, does it need to be on the day, and/or do you celebrate all month?
Usually just the day if we're lucky...and it definitely doesn't have to be on the day...but this year I do want to do a little extra since my 17 year old is going away to college.
Valentine's Day is about celebrating the ones you love. What does LOVE mean to you?
LOVE....to me the people that without question, without judgement I have fun with, care for,laugh with, and even battle for.
Do you have any Valentine's Day traditions that you still follow as a grown up that your parent's did with you as a child?
No, I'm trying to create my own! :)
What is your most favorite thing about Valentine's Day?
I love that everyone is trying to focus on LOVE...and how much we care for each other.
Your special message to your Valentine...
I love you more than life! You make me laugh until my sides hurt and tears course down my cheeks! You do anything in your power to make me happy...even when I'm grumpy! You have learned to be a Disney nerd like me....and you are the most thoughtful man I have ever met. I am truly blessed to be married to you!
I love you..and you're my lobster!
Thank you so much
Tracy
for participating in this Valentine's Interview Series!! I appreciate your heart and honesty in your answers and for your willingness to share it with everyone here.
click on photo to read all interviews.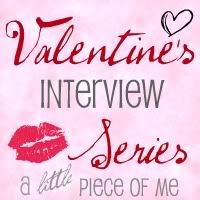 xoxo,
Salena
BlogLovin
/
Facebook
/
Shop
/
Twitter
/
Google+
/
Pinterest
Pin It