Lena is here today from Mom2MemphisAndRuby! Lena is such a lovely soul and is always so supportive and encouraging. I am excited to have her here today and she has a giveaway at the end!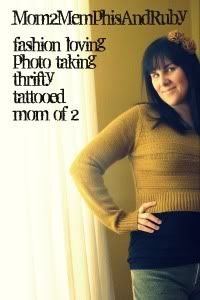 My name is Lena and I blog over at Mom2MemphisAndRuby! I'm a working mom of two crazy kids and they keep me very busy! We live in a very small farming community in Quebec, about an hour or so from the nation's capital and we really love it! Blogging has been a wonderful outlet for me, and a good excuse for "me" time! Some days I blog about my life or my kids... or maybe I'll do a fashion post, participate (or host) a linky party or surprise my readers with a fun giveaway! I LOVE nail polish, shopping, scary movies, and nose piercings... so those pop up from time to time too! ;)
I am taking over Tuesday 10 link up from Miss Mommy... Every Tuesday starting February 7th!
Q: Who/What was your inspiration to start blogging/shop?
I had a friend years ago who was blogging... I thought it would be a cute way to keep family & friends informed of what what going on in our lives. In the last year, I've taken it more "seriously" and I'm hooked!
Q: What is your routine while blogging/creating things for shop?
If I think of something, I jot it down.... I do my best blogging in the evening, after the kids are in bed. If I'm feeling particularly inspired, I can sometimes come up with a week's worth of posts all at once!!
To take care of me, my most favorite thing to do for myself is...
a hot bath, a good book and painting my nails.
*You MUST be a public follower via GFC to enter giveaways hosted on this blog* Thanks for your understanding!!
a Rafflecopter giveaway
xoxo,
Salena
BlogLovin
/
Facebook
/
Shop
/
Twitter
/
Google+
/
Pinterest
Pin It