This week I am sharing 10 things from my Great Tips Pinterest Board. I know we all could use great tips so here we go...
source
Use ankle weights to keep strollers from tipping over. I wish I knew about this years ago.
source
Place dice into closed plastic container to keep them from getting lost.
source
Use recycled grocery bags for trash bags in car. I was really excited when I saw this. Like, why have I never thought of this?!
source
This is something I've been doing for a while and it works really great. I keep one on my key ring so when my girls take their rubber bands off, I clip them right back on.
source
This is absolute genius! My girls are always getting into the scissors.
source
Keep a bottle of baby powder in your beach bag. Dust some on over sandy body parts and the sand wipes right off.
source
Use dental floss for emergency repairs.
source
Coat the bottoms of your metal cans you keep in the shower, it will keep it from rusting.
source
Add some baking soda to your shampoo every couple of days to get rid of build up.
source
WD-40 removes crayon from just about any surface. I need to get busy with my WD-40 around my house.


Please share... which ones were a surprise to you? Do you have any great tips you would like to share? Let me hear it.
All my heart,
Linking up to: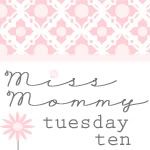 ohamanda top ten tuesday
Pin It